Center for International Forestry Research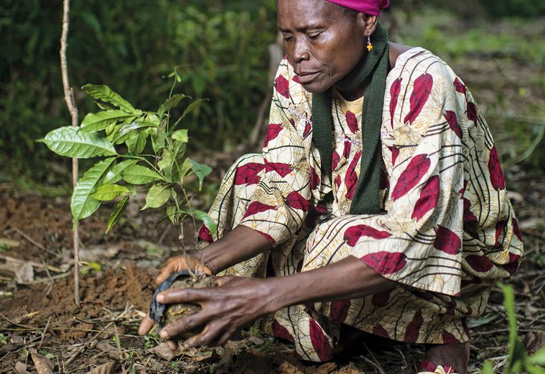 Boosting livelihoods and conservation through okok domestication in Cameroon
For villagers in Cameroon's central region, the forest creeper known as okok is considered a wonder plant.
Gnetum spp., called okok or eru in  different parts of Cameroon, is a non-timber forest product (NTFP) of huge cultural and financial significance. Okok grows naturally in the Congo  Basin rainforest. It climbs the trunks and entwines around the branches of established trees. But the vegetable's soaring popularity in Cameroon  has led to concerns about sustainability. CIFOR's research estimates that in Cameroon alone, trade in the okok plant exceeds US$ 12 million each year.
I'm happy because I see the impact on the population is direct, it's something we can see. It's not something we can just talk about at conferences – when you go to the field you can see what is happening and you can evaluate the change that is taking place.

Abdon Awono
CIFOR Scientist
"[Okok] is very important in terms of food, it is very important in terms of medicine, and it is very important in terms of income generation," says CIFOR Scientist Abdon Awono.
While researching NTFPs in his home region, Abdon Awono noticed that villagers needed to walk further and further into the forest to find okok. He encouraged CIFOR to partner with the Cameroonian research organisation IRAD and a local NGO to develop a trial domestication program in several villages.
"We started convincing them that it was also possible to plant okok as they do with cocoa and other agricultural products. Believe me, it was very difficult because they said, 'What are you talking about, we have it in the forest, you cannot tell us to plant,' But . . . they started to realise it was very useful because they could not get the quantity they needed from the wild."
Nurseries were set up in 2003, villagers were trained and plantations were established. Now, the success of the CIFOR trial has seen okok cultivation programmes rolled out across the country, with the Cameroonian government committing around US$ 500,000 per year since 2009.
Watch our video "Taming okok" at cifor.org/okok